Metal Building Applications
Thank you for your interest in our Radiant Barrier and Metal Building Insulation products. This section contains in-depth information on how insulation works with metal buildings, and, after you review it, we would be happy to assist you with your insulation needs.
Because there are multiple options available, our company can help you decide which one is best for you. As you review this page and read about how insulation benefits metal buildings, keep in mind that there are essentially four options when it comes to insulating these structures. With the intuitive VRR Premium system by Polyshield, you can have it all.  The VRR Premium system is an upgrade over other insulations. The VRR Premium System is effective against Radiation, Conductivity, and Convection. It's a superior Vapor Barrier, Moisture Barrier, Radiant Barrier, and Fiberglass Insulation, with easy to install tape tabs, all at an affordable labor saving cost! Ask for the VRR Premium System by name and start saving energy and installation costs today.
Option #1: The VRR Premium System is an all-in-one system. It provides a Vapor Barrier, Moisture Barrier, a Radiant Barrier, and substantial Fiberglass Insulation in one easy-to-install labor saving method. This is a 48"- or 60"-wide RadWrap insulation with 2" tabs on both sides. The insulation batting is attached to the silver side, and ranges from 2" thick up to 6" thick. This option provides traditional fiberglass with a 95% reflective radiant barrier, plus a vapor and moisture barrier. The RadWrap facing comes with a lifetime warranty against failure.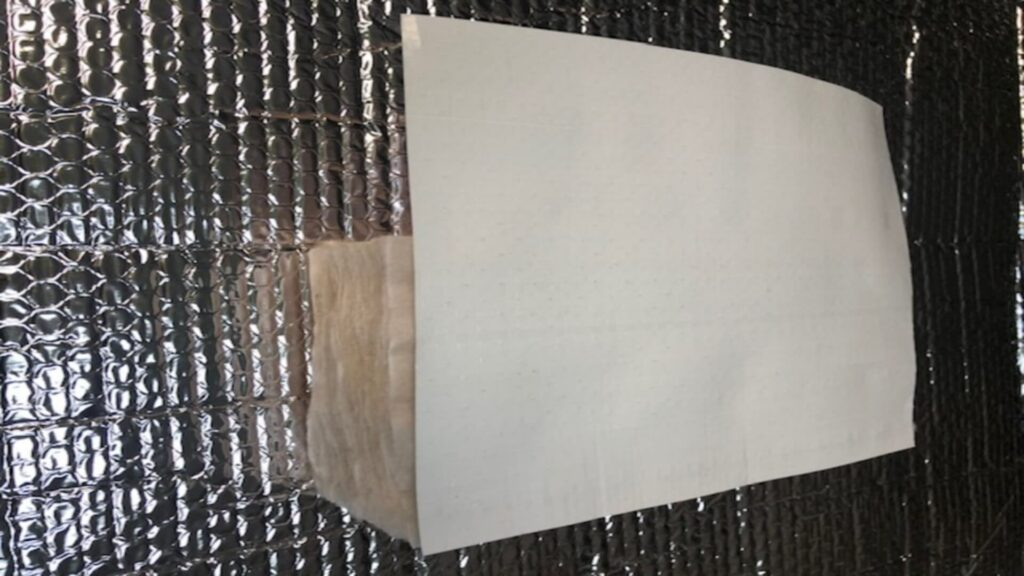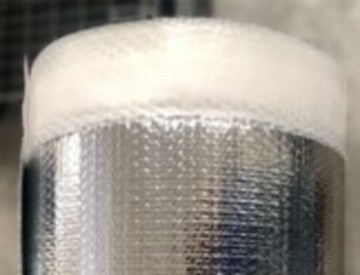 Option #2: Another product solution to keep in mind is the 48" X 125" premium bubble/foil insulation with a white woven finish that is peck-proof and more durable than other insulation finishes. This option offers a substantial R-Value with 97% reflectivity. The Polyshield Bubble we utilize is stiffer than any other bubble in the industry. This is important because it can cut labor installation costs by 50%.
Option #3: As you think about your metal building insulation options, the third one is a 52"- or 64"-width Perforated RadWrap white/silver ceiling insulation. This material is usually sold in 1000 sq. ft. rolls. However, special lengths can be ordered. The RadWrap is perforated at the same permeability as traditional brand-name house wrap. This eliminates the need for taping and sealing. The durable, washable white-polyethylene- surface on one side is tough, and on the other side is our proven 95% reflective foil. The Radiant Barrier works differently than traditional insulation, actually blocking 95% of the radiation trying to move into the building. In addition, perforations make it a perfect option to prevent condensation as well.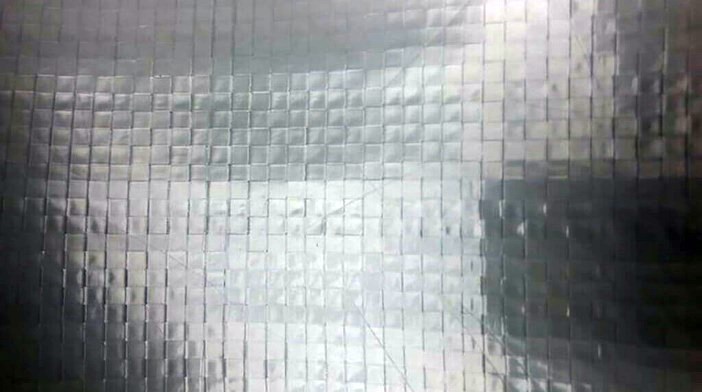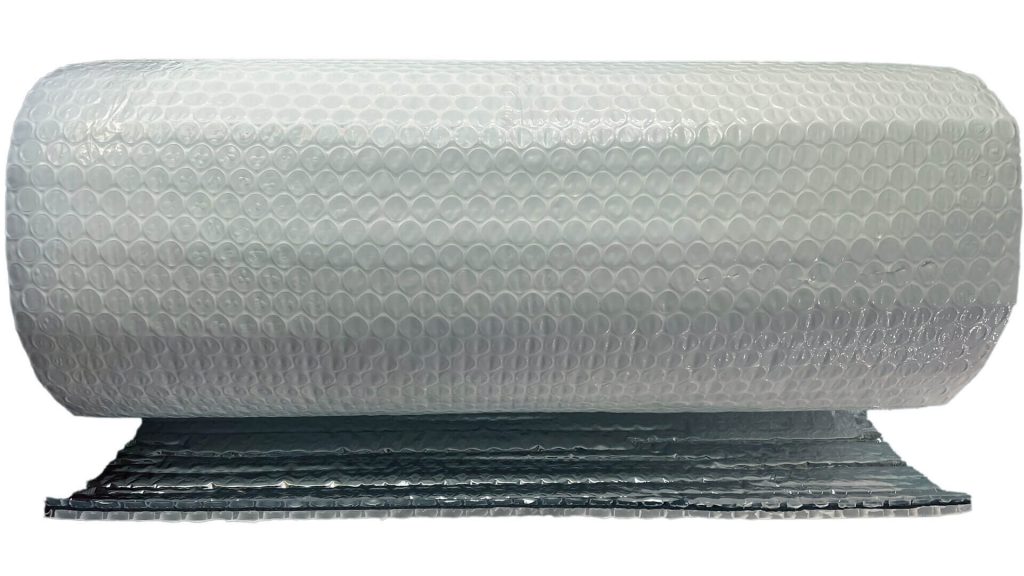 Option #4: Polyshield Triplex MBI R21 is designed specifically for Metal Building Insulation applications. Our MBI R21 is over 1" thick, featuring large double-bubble foil/foil material and a foam center. This stiffer material provides a much easier install, saving up to 70% of labor! The unique Triplex MBI R21 has 95% reflectivity, matching all the other variations of our bubble insulation. The XPE foam center provides sound-deadening properties, a higher R-Value, and delivers a higher level of fire protection. 
Triplex MBI R21 provides an R21 value when installed with 3.5" of dead air space between the material and the metal of a building.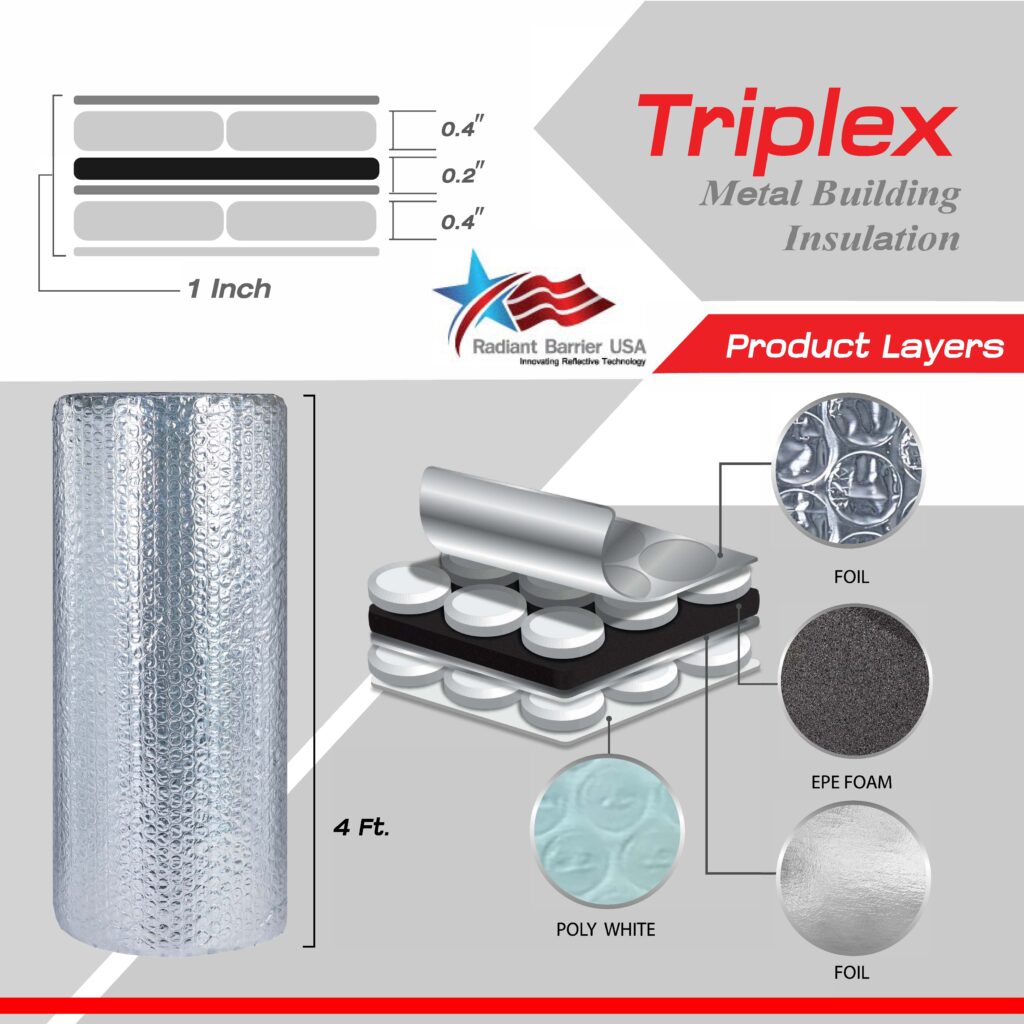 All About Metal Buildings and Insulation
During the summer, the radiant heat from the sun can easily overwhelm existing insulation in metal barns and buildings, creating unsafe conditions for animals. Heat from radiation reduces weight gain and health, negatively impacting profits for farmers. The effect of heat stress in livestock is one major hurdle that farmers must overcome to raise healthy animals.
One of the best ways to eliminate the impact of radiant heat in agricultural buildings, also known as the "black globe effect," is to ensure that the building is effectively insulated. The best material for reducing the transfer of radiant heat from the sun is, without question, aluminum Radiant Barrier insulation.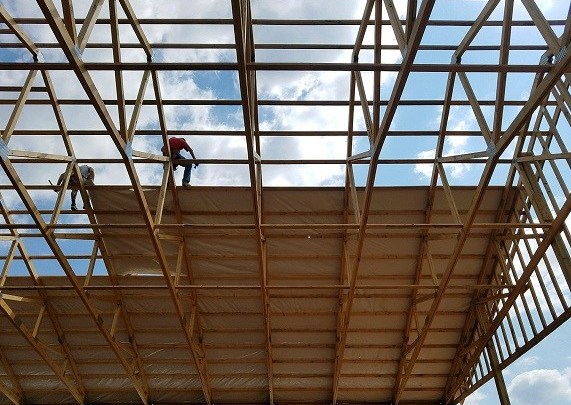 The Florida Solar Energy Center conducted a study on the effectiveness of foil radiation barriers in building envelopes at the Florida Solar Energy Center's Passive Cooling Laboratory (PCL) in Orlando, Florida. The study authors were surprised by the effectiveness of the foil Radiant Barrier in controlling temperature. Their results found that radiant barriers efficiently separated different temperature extremes, keeping the heat from radiating into the enclosed space. The effects were especially pronounced, the study found, for composite roof sections, in which the addition of the Radiant Barrier "changed the entire process of heat transfer."
The addition of Radiant Barrier insulation into attics has an enormous effect on preventing the transfer of heat in barns and agricultural buildings and keeping livestock cool in summer.
Polyshield's Metal Building Insulation facing (RadWrap) is a Radiant Barrier product that is a 7mm-thick woven film with aluminum Radiant Barrier on one side and a white polyethylene coating on the other. RadWrap has added UV & Corrosion protection, so it can handle the harsh environments found in metal buildings and agricultural barns. RadWrap comes in solid and perforated versions.
The US Department of Energy has conducted elaborate tests for Radiant Barrier in attics at the large-scale climate simulator at Oak Ridge National Laboratory. The purpose of this testing was to evaluate the performance differences in new construction and retrofit applications. The rafter-applied sheet Radiant Barrier had 50% improved cooling and 10% improved heating in new construction and retrofits.
As a result, Radiant Barrier is finding its way into more and more building codes, like California Title 24.
Radiant Barrier laminated to fiberglass batting is certainly the easiest, least expensive way to provide a substantial R-Value, a Radiant Barrier, and a finished, peck-resistant, washable, durable ceiling.
RadWrap facing materials come in widths of 52", 54", 64", and 78". Other widths can be available for special order. Most lengths are available.
RadWrap is being laminated to insulation batting to achieve the following R-Values: 2"/R7, 3"/R10 and 6"/R19.
VRR Premium Fiberglass with Facing Insulation Options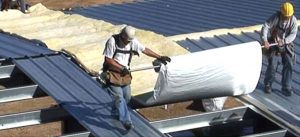 VRR Premium facing materials are applied to fiberglass insulation blankets to serve as a vapor retarder as well as a protective cover over the fiberglass. RadWrap is a superior option for facing material being applied to your fiberglass insulation. RadWrap adds 95% reflectivity to your fiberglass insulation. The US Department of Energy and The Florida Solar Energy Center have done extensive research on the effects of adding Radiant Barriers to attic envelopes. The US Department of Energy has determined adding a Radiant Barrier to traditional insulation can improve performance of your insulation as much as 50%. The Florida Solar Energy Center study has shown one layer of Radiant Barrier in an attic environment can be more effective than 6" of fiberglass insulation.
RadWrap has been engineered to be a stand-alone facing for use under metal roofs. RadWrap has a 7mm-thick woven fabric substrate, and is silver on one side with white on the other. The white side is a tough Polyethylene surface and is designed to be power washed.
RadWrap can be perforated at 6.28 permeability to prevent condensation. RadWrap can be applied by itself as a standalone application or laminated to fiberglass to add a substantial R-Value.
Tabs are the extension of the vinyl facing past the fiberglass insulation blanket, used to seal or create a finished edge for the seams. You can get 1-4" tab on one side of the fiberglass or 2" tabs on both sides. Double-faced tape can be added to seal the tab to the next piece of insulation. In retrofits, this is usually 2" tabs on each side, whereas 4" tabs on one side is used in new construction. In retrofits, it is either tucked up along the side of the fiberglass acting as a trim or it is used to cover the purlin or girt. You also have the option to get a factory pre-applied adhesive on the tab, which the installer peels and sticks to the next blanket, or you can use Polyshield's Premium 2"X165' double-sided tape that creates a permanent bond. This provides a clean seal to the seams and creates a vapor barrier.
VRR Premium Insulation Blanket Thickness / R-Values
The higher the insulation blanket thickness, the higher the R-Value of the insulation. R-Value is a measurement of the effectiveness to retard or prevent the loss of heat flow. To achieve high R-Values, a double layer system can be applied.
Single Layer Insulation Systems
There are several thicknesses for single layer insulation blankets.
| | |
| --- | --- |
| Insulation Thickness | R-Value |
| 2" | R-8 |
| 3" | R-10 |
| 3.5" | R-11 |
| 4" | R-13 |
| 6" | R-19 |
| 8" | R-25 |
| 9.5" | R-30 |
Double Layer Insulation Systems
Multiple layers can be applied to achieve higher R-values. Your purlin depth determines the thickness of your bottom layer.
| | |
| --- | --- |
| Double Layers | R-Value |
| 3" + 6" | R-29 |
| 3.5" + 6" | R-30 |
| 4" + 6" | R-32 |
| 2 5/8" + 8" | R-33 |
| 3" + 8" | R-35 |
| 6" + 6" | R-38 |
| 3" + 9.5" | R-40 |
| 4" + 9.5" | R-43 |
RadWrap and Bubble Insulation 2-Part System
Applying the RadWrap and Bubble two-part system eliminates mass insulation.
Studies by the Florida Solar Energy Center show that one layer of radiant barrier can be more effective than 6" of fiberglass.
As much as 93% of heat gain in metal buildings can be from heat radiation from the sun during the summer. During the winter, 75% of heat loss can be from radiation.
Studies like the one done by the Florida Solar Energy Center show that fiberglass can trap heat in your attic space, causing temperatures as high as 150 degrees Farenheit.
The RadWrap and Bubble system provides three dead air spaces and three layers of reflectivity. Since there is no mass insulation, there is nothing in this assembly to trap harmful heat from radiation.
The R-Value of this assembly can vary. The most important consideration on this application is the focus of the predominate heat gain from radiation.