How will the Inflation Reduction Act affect your energy bills?
Earlier this year, Congress passed the Inflation Reduction Act. You have probably heard that the bill approved over $370 billion dollars of federal funding, and has over 700 pages which MOSTLY focus on renewable energy and electric cars. What you may not have heard is that it also included the "High Efficiency Electric Home Rebate Act," or "HEEHRA." And it is THIS portion of the act that is going to make a huge difference to homeowners' pocketbooks in the coming months! In total, homeowners can save up to $14,000 on home upgrades. If they're also smart and use a portion of that money to upgrade their insulation, they will save even more each month!
According to RewiringAmerica.org, homeowners will be able to receive discounts at the register for their insulation projects– even as much as 100% of the cost, up to $1600! The amount is dependent on your income and your area's median income, so RewiringAmerica.org also provides this handy-dandy calculator, and the following infographic: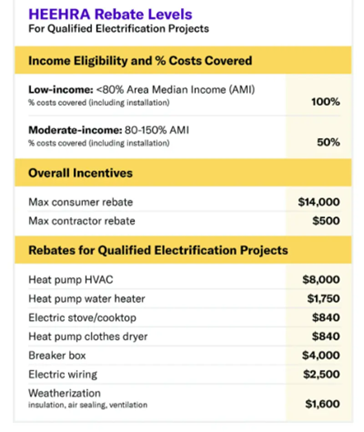 According to Whitehouse.gov, households will ALSO be able to claim up to $1,200 in tax credits simply for adding insulation to their homes (or by installing energy-efficient windows and doors). Homeowners will be able to claim up to $600 per purchase, with a yearly cap of $1200. Households will also be able to receive up to a $150 credit for having a Home Energy Audit performed by a professional, who will point out all the places that the home could be more energy efficient. With that knowledge and those rebates, families won't just save money on the cost of the insulation. They'll also be saving BIG each month on their energy bills!
Now, we don't know exactly how the program will be implemented yet, as those details haven't been made public as of this posting (09/21/2022). But we do know that you do NOT want to sleep through these savings! It's time to plan your insulation upgrade. The best way to start is by calling the experts at Radiant Barrier USA, who are highly motivated to help you save money and have a much more comfortable, energy-efficient home!
817-538-5222